Review

Open Access

Open Peer Review
This article has Open Peer Review reports available.
Urinary proteomics and metabolomics studies to monitor bladder health and urological diseases
BMC Urology
BMC series – open, inclusive and trusted
2016
16:11
Received: 30 September 2015
Accepted: 10 March 2016
Published: 22 March 2016
Abstract
Background
Assays of molecular biomarkers in urine are non-invasive compared to other body fluids and can be easily repeated. Based on the hypothesis that the secreted markers from the diseased organs may locally release into the body fluid in the vicinity of the injury, urine-based assays have been considered beneficial to monitoring bladder health and urological diseases. The urine proteome is much less complex than the serum and tissues, but nevertheless can contain biomarkers for diagnosis and prognosis of diseases. The urine metabolome has a much higher number and concentration of low-molecular metabolites than the serum or tissues, with a far lower lipid concentration, yet informs directly about dietary and microbial metabolism.
Discussion
We here discuss the use of mass spectrometry-based proteomics and metabolomics for urine biomarker assays, specifically with respect to the underlying mechanisms that trigger the pathological condition.
Conclusion
Molecular biomarker profiles, based on proteomics and metabolomics studies, reliably distinguish patients from healthy controls, stratify sub-populations with respect to treatment options, and predict therapeutic response of patients with urological disease.
Keywords
Urinary biomarkersProteomicsMetabolomicsBladder diseases
Background
Personalized medicine aims for a customized healthcare for each patient to match treatments with the right patients at the perfect timing. Gene-specific data (SNP genotyping as well as epigenetics) is too static to enable such timed treatments. It is therefore essential to collect variable biomarker, along with other clinical information, data to achieve accurate diagnostic assessment for individual patients [1–3]. Multi-omic readouts of cellular and organ phenotypes (RNA-Seq, proteomics and metabolomics) will be indispensible in the era of personalized medicine. Only through a combination of exact genotypic and molecular phenotypic information we will improve the development of custom and precision therapies [4–6]. Sub-grouping of patients is necessary to define the evidence-based protocol for matching treatments to the right patients with appropriate timing [5, 7]. The necessity of compiling molecular information and clinical outcomes in personalized medicine prompted us to believe that the use of multi-omic data in conjunction with clinical outcome data is ever more important not only at the time of medical intervention, but throughout patients' lives. The need for and possibilities associated with big data approach to gain insight into biological processes driving diseases and to identify novel diagnostics is enlarging. In this review, we will discuss how far metabolomic and proteomic approaches have come to aid in this long-term goal.
Urological diseases including urological cancers and benign bladder dysfunctions are complex in nature and require powerful, precise treatments. Tests to find patient candidates for a specific or combination of therapy and to identify biomarkers are incredibly challenging to determine [6, 8, 9]. Urine contains information not only from the urinary track, but also from other organs, providing biomarkers for bladder and other systemic diseases [10–12]. Looking at urine data in conjunction with other available patient clinical data may enable us to understand the molecular signature, which helps monitor the stages of the diseases and responses to therapies. This is particularly true in urological diseases, where urine samples provide the primary window for diagnosis and drug behavior observation [13].
A common definition of the proteome is the entire set of proteins expressed by a cell, tissue or organism at a certain time. Since proteomics is the large-scale study of proteome, it can contribute to expanding the understanding of biological systems and functions in cells or organs. Proteomes are directly responsible for cell functions, and therefore, abnormal protein expression is an indication of cellular disruption due to the pathological conditions [14, 15]. Current global proteomic technologies may provide a comprehensive understanding of urological diseases, characteristics of the disease's state, and novel approaches to relieve the clinical symptoms [16–18].
Metabolomics provides a global chemical fingerprint of the metabolism of cells and indicates physiological and pathological states of biological samples [19–21]. Thus, the power of metabolomics opens up an unparalleled opportunity to query the molecular mechanisms of the disease. Metabolites are not merely the end products of gene/protein expression, rather, they are the result of the interactions of the genome and proteome with their environment in the cells. They play as powerful mediators of cellular events both in long-distance actions (e.g. hormones), stress and physiological actors (e.g. oxylipins) [22] and as cell-internal mediators (e.g. α-ketoglutarate in pluripotency) [23]. Thus, analyzing metabolic differences between pathological and normal conditions could provide undiscovered insights into the underlying disease pathology.
In addition to the advancements in multi-omics data acquisitions, novel bioinformatics methods enable an integrated view to identify the combined action of biomarkers as well as to develop drugs [24–27]. A significant volume of data with various omics data, including genetic, epigenetic, transcriptomic, proteomic, metabolomic and clinical outcome data, provides researchers with the capability to see a broader perspective and make discoveries that couldn't previously be delivered [28–31]. Integrative approaches have become the essential part of experimental designs aimed at better understanding the biology of bladder diseases.
The main goal of this article is to provide the reader with an up-to-date summary of the main molecular variations taking place in biofluids with respect to various urological diseases including urological cancers (e.g., prostate cancer (hereafter PCa) and bladder cancer (BCa)) and benign bladder dysfunctions (e.g., benign prostatic hyperplasia (BPH), interstitial cystitis/pelvic bladder syndrome, bladder pain syndrome (IC)), as well as of the analytical strategies employed to unveil urinary biomarkers.
We here focus on mainly two omics analyses—proteomics and metabolomics—and associated data integration strategies. These approaches enable researchers to: (a) identify unknown molecular mechanisms; (b) select molecular markers that can be used for drug discovery, preclinical, and clinical drug development; (c) develop diagnostic tools. First, we present a short review on the urine-based studies. Second, we discuss analytical techniques that are used in urinary omics analyses, including computational methods for data processing. Next, we present studies that have used proteomics or metabolomics approaches to reveal the fingerprints of urological diseases. Finally, we discuss the future research directions and prospective how to apply to diagnosis and precision medicine for patients to summarize the review.
Discussion
Urine-based biomarkers for diagnosis, prognosis, or monitoring the treatment efficiency
A concerted effort bridging basic biology and clinical research is needed to identify high quality predictive biomarkers [31]. Discovery and validation of predictive biomarkers should be an integral part of clinical trials. In the clinical setting, the best diagnostic value is given by noninvasive biomarker tests that have both high sensitivity and specificity. A non- or minimally invasive diagnostic method using biofluids (e.g., urine, blood, saliva, fecal extract, and sputum specimens) may play a significant role in urological diseases with regard to early detection, diagnosis, prognosis, drug development, and sensitivity prediction to clinical treatments [12, 32–34].
So far the most attractive biofluids for biomarker discovery in bladder health and urological diseases are serum and urine [32–34]. Serum is a relatively accessible, stable and informative biofluid, making it ideal for early detection of systemic alteration in a wide range of diseases [35, 36]. Monitoring of serum has several advantages mainly due to its stability and minimum dilution effect. Proteomic and metabolic profiles of serum can be regarded as important indicators of physiological and pathological states and may aid in the understanding of the mechanism behind disease occurrence and progression [37–39]. However, blood samples pose certain disadvantages. During blood sample collection, proteases are often activated, which degrades proteins quickly and introduces a range of variability. On the other hand, 20 highly abundant proteins in the blood, which correspond to 99 % of the proteins, may hinder the identification of other less abundant, potentially important, proteins [40–43]. This feature makes it challenging to develop plasma or serum based assays and often analytes enrichment or protein depletion is needed.
Urine definitely is not a waste in regards to gaining patients' diagnostics and therapeutic information [18, 44, 45]. However, it is still in debate whether urine plays an active role in regulating bladder biology. Urine's composition is 95 % of water with small amounts of ammonia, sulfate, and other constituents. Total protein concentration in urine from healthy donor is very low (<100 mg/L) and urinary proteome contains over 100,000 different peptides [18, 32, 44, 46, 47]. Approximately 1500 proteins have been shown to constitute the urinary proteome, of which large proportions are extra cellular proteins, plasma membrane proteins, and lysosomal proteins [18, 48]. The Human Kidney and Urine Proteome Project by the Human Proteome Organization (HUPO) suggested that urine is an ultra filtration of the blood in the body, since urine and blood samples share the proteome profile [49–51]. Approximately 30 % of the proteins in normal human urine are plasma proteins, while the other 70 % are proteins derived from the kidney and genitourinary tract [49, 50].
Urine samples usually need special treatments to meet the requirements of reproducible measurements after sample collections. To obtain reliable and consistent profiles of urine, first, urine must be collected in a sterile bag or plastic container, because urinary bacteria metabolism significantly interferes on the urine proteome and metabolome. Secondly, urine samples must be properly processed (e.g., pH adjustment and/or removal of cell debris) and frozen at −80°C immediately after collection, until analysis [40, 46]. In addition, analysis of urine samples poses several analytical challenges for profiling owing to wide variations in the ionic strength, pH, and osmolality, particularly under conditions of physiological stress, diet, exercise, medication, health condition, and environmental exposure [46, 52, 53]. Furthermore, urine samples typically have a huge dynamic range of metabolite and protein concentrations. Another potential problem is the presence of proteolytic activity in the urine by urokinase and other enzymes [54]. Proteases found in stored urine degrade urinary albumin to a substantial degree. However, the extent to which proteases affect biomarkers in the urine is still unclear.
Despite all these shortcomings, urine is still an attractive source for studying bladder diseases. To monitor bladder condition, urine-based assays present the most attractive strategy, among other biofluids-based methods, given that the body fluids that are most proximal to a disease site often can provide a source of informative biomarkers. Urine is readily obtained and available with no required preparations by the patient and it is less complex than other body fluids. The ease of collection allows for serial sampling to monitor disease and therapeutic responses. Care must be taken in interpreting urine-based proteomics and metabolomics data. The main disadvantage of urine is the variation in protein concentration due to differences in fluid consumption during the day, which can be countered by normalizing with creatinine. However, although creatinine is the best possible internal standard for correcting urine volume effects, creatinine levels can vary due to dietary intake and pathological conditions. Computational approaches for data normalization methods can be applied to reduce artifacts due to sample variability using currently developed probabilistic quotient- and median-fold changes in normalization strategies [55].
Analytical techniques and databases for urine-based omics for bladder diseases
With the latest advances in high-throughput technologies, the pace of advances in the "omics" field accelerated the rate of novel biomarker discovery and therapeutic targets for various bladder diseases. Various omics technologies for personalized medicine are shown in Fig.
1
, and ideal applications and workflow of urine-based biomarkers in clinical settings are shown in Fig.
2
.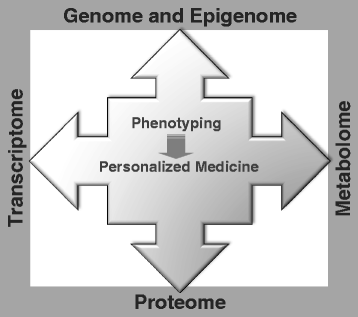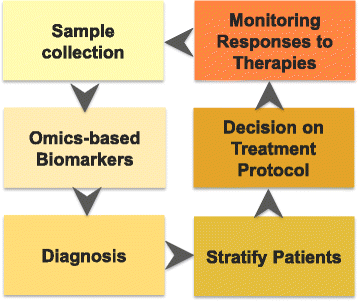 Proteomic technology has made a dramatic progress in the overall quality and information content over the past 5 years [56]. When computationally matching identified proteins (or metabolites) against knowledge-based databases, proteomics or metabolomics profiles today provide direct insights for biological interpretation of molecular perturbations unique in patients with urological diseases [47, 57, 58]. In this section, we review the current proteomic and metabolomic techniques and analytical tools/softwares that are used to identify signatures of urological diseases.
Potential biomarkers of bladder diseases
Next, we review the current state of proteomics and metabolomics in conjunction with recent technical advances in mass spectrometry in this section. The key applications and achievements by urinary proteomics and metabolomics in clinical biomarker research are discussed. Focus will be given to PCa, BCa, BPH and IC among other urological diseases. Examples of urine–based biomarkers suggested by previous studies are shown in Fig.
3
.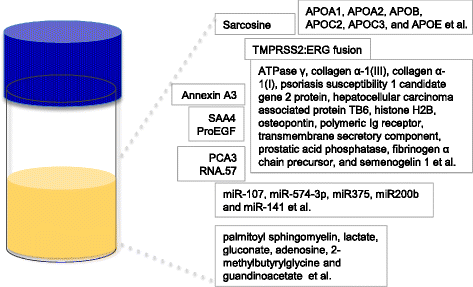 Conclusion: concluding remarks and perspectives
In this short review, we have provided information on the current state of 'omics' studies and available data sets relevant to bladder health and pathological condition, and presents opportunities for new research directed at understanding the pathogenesis of this complex condition. We believe that the ultimate goals of urine profiling of proteome and metabolome should be (i) to identify non-invasive diagnostic and prognostic biomarkers of bladder diseases, (ii) to better understand the biology of bladder diseases, and (iii) to determine the therapeutic strategies targeting the critical pathways of various bladder diseases. Recent efforts in the generation of large genomics, transcriptomics, proteomics, metabolomics, and other types of 'omics' data sets have provided a series of urinary biomarker candidates of bladder diseases. In spite of much efforts to identify candidate urinary biomarkers, it is still required to validate such markers in larger numbers of urine samples using targeted proteomics and metabolomics analyses in a prospective way.
Diagnostic and treatment modalities, even subjective diagnostic tools, are largely unavailable. As described here, our attempts to perform a systematic review and to build a pooled database using existing public 'omics' data associated with bladder health and various pathological conditions revealed the significant limitations and challenges facing investigators in the field. Many reports have suggested that natural diversity of patient population clearly plays a role in the difficulty of validating urine biomarkers. Expanding tests to include the general population often leads to loss or decrease in sensitivity. However, if tests are used for patients presenting specific symptoms in the clinic, and not for the general population, to inform about prognosis or treatment options, the pitfalls of general-population based urinary biomarkers may be alleviated. However, the cost of developing and validating a clinical grade assay is clearly beyond regular laboratory funding and would require concerted efforts by health agencies.
Collectively, despite these numerous pitfalls, urine is an interesting source of biomarkers for monitoring the bladder health. Rather than a single urinary molecular biomarker, a panel of biomarkers may be required to achieve the overall high level of specificity needed, so the trend is shifting towards implementing a panel of biomarkers, which may increase specificity. In order to translate potential biomarkers to clinical practice, vigorous validation must be pursued, with input from industry or large collaborative studies. Computational approaches combined with high quality 'omics' data could provide new insights in the field, essential molecular details about regulatory mechanisms and perturbations leading to bladder diseases, and essential information if we are to offer improved diagnostic capability and treatment strategies for patients.
Availability of data and materials
All the data supporting your findings is contained within the manuscript.
Abbreviations
APF:

antiproliferative factor
BCa:

bladder cancer
BPH:

benign prostatic hyperplasia
DEPs:

differentially expressed proteins
DFI/LC-MS/MS:

direct flow injection mass spectrometry
EV:

extracellular vesicles
GC-MS:

gas chromatography mass spectrometry
HMDB:

human metabolome database
HPLC:

high performance liquid chromatography
IC:

interstitial cystitis/pelvic bladder syndrome/bladder pain syndrome
ICP-MS:

inductively coupled plasma mass spectrometry
iTRAQ:

isobaric tags for relative and absolute quantitation
LC-MS:

liquid chromatography-mass spectrometry
MALDI-TOF:

matrix assisted laser desorption/ionization time-of-flight
MIBC:

muscle invasive bladder cancer
MS:

mass spectrometry
nano-MALDI-MS:

nano-liquid chromatography-tandem mass spectrometry
NMIBC:

non-muscle invasive bladder cancer
NMR:

nuclear magnetic resonance spectroscopy
PCa:

prostate cancer
PTMs:

posttranslational modifications
SELDI-TOF:

surface-enhanced laser desorption/ionization time-of-flight
SILAC:

stable-isotope labeling by amino acids
SRM/MRM:

selective or multiple Reaction monitoring
Declarations
Acknowledgements
The authors would like to thank Dr. Oliver Fiehn (UC Davis) for careful review and editing the manuscript.
Funding
The authors acknowledge support from National Institutes of Health grants (1U01DK103260, 1R01DK100974, U24 DK097154, NIH NCATS UCLA CTSI UL1TR000124 (to J.K.)), Department of Defense grants (PR140285 (to J.K.)), Centers for Disease Control and Prevention (1U01DP006079 (to J.K.)), IMAGINE NO IC Research Grant, the Steven Spielberg Discovery Fund in Prostate Cancer Research Career Development Award. J.K. is former recipient of Interstitial Cystitis Association Pilot Grant, a Fishbein Family IC Research Grant, New York Academy of Medicine, and Boston Children's Hospital Faculty Development.
Open AccessThis article is distributed under the terms of the Creative Commons Attribution 4.0 International License (http://creativecommons.org/licenses/by/4.0/), which permits unrestricted use, distribution, and reproduction in any medium, provided you give appropriate credit to the original author(s) and the source, provide a link to the Creative Commons license, and indicate if changes were made. The Creative Commons Public Domain Dedication waiver (http://creativecommons.org/publicdomain/zero/1.0/) applies to the data made available in this article, unless otherwise stated.
Authors' Affiliations
(1)
Advanced Clinical Biosystems Research Institute, Cedars-Sinai Medical Center, Los Angeles, USA
(2)
Department of Surgery, Cedars-Sinai Medical Center, Los Angeles, USA
(3)
Department of Biomedical Sciences, Cedars-Sinai Medical Center, Los Angeles, USA
(4)
Department of Medicine, University of California, Los Angeles, USA